Welcome to Middle School
My name is Chris Johnston and I am the Head of Middle School.
I have two Deputies, Mr Fulford-Brown and Mr Rowland, and together we are responsible for pupils' pastoral care and academic progress through their two important GCSE years.
The Middle School takes students through a challenging yet exciting time in their education and lives. During these two years, pupils are nurtured to enable them to flourish both personally and academically and to become the self-confident young adults they wish to be. The excellent pastoral care offered by Form Tutors is very much at the centre of this supportive approach.
Pupils are placed into forms of up to 24 pupils and supported by a Form Tutor as they progress through the Middle School. Each form has a Sixth Form prefect who works with the Form Tutor on both administrative and pastoral duties, including acting as a mentor to selected students where required.
In the Middle School, we realise the importance of goal setting and encouraging pupils to consider their aspirations for the future. As part of the ongoing careers guidance programme, all Fourth Form pupils complete the Morrisby Profile – an aptitude test – and this is followed by a one-to-one conversation with their tutor to review the profile and discuss future plans, including A Level choices and beyond. We also have a full programme of support to aid pupils in achieving their ambitions. My Deputies and I work closely with Tutors, subject teachers and the Learning Support Department to ensure that all pupils are empowered to reach their full potential.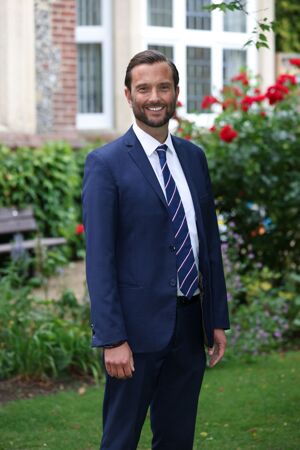 Read more here about our Pastoral Care and Wellbing Programme
---
Middle School Leaders
Recognising the importance of soft-skill development, we also run a Middle School Leaders programme through which pupils develop their team-working and leadership skills. In the Fourth From, this is through membership of the Charity Committee, embodying the School's motto, Non Nobis Nati. Whilst in the Fifth Form pupils are trained as Mentors and provide peer support for younger pupils in the community.
---
Co-curriculum
There are many opportunities available for pupils to make the most of in Middle School. Alongside studying for 10 GCSE subjects, they have access to a full range of co-curricular activities, including the Silver Duke of Edinburgh's Award. We actively encourage all pupils to participate in the co-curricular programme, as we believe it is an integral part of their education and furthers the development of values such as courage, organisation and reflectiveness, which are essential for success in the classroom and beyond.
We encourage all pupils to complete the Middle School Diploma. This is an award given for outstanding commitment to not only the co-curricular programme the School offers, but also the School's values, ethos and educational aims. There are six sections to complete, and students must engage in/complete at least one of the activities listed to complete the section. Pupils also have the opportunity to undertake the Higher Project Qualification, which encourages an inquisitive and industrious attitude and will enable them to develop their independent study skills.
Click here to read more about our co-curricular programme